Okra is a very healthy plant which contains a lot of rich vitamins and minerals. It is important to include okra in your diet for a more powerful immune system.
Okra is rich in vitamins C and K and iron and magnesium. Eating okra frequently will help you to get a better skin and hair health. Scientific studies had proved that okra is good for digestional health, kidney diseases, diabetics, obecity and cholestrol. Thus it is good to consume okra regularly for a healty life.
How to Cook Okra
There are many ways of cooking okra. In this post you will learn how to make a simple okra stew without meat. It is vegan and vegetarian friendly version of cooking okra with tomato at home.
This vegetarian okra recipe is easy and takes only 15 minutes. Here are the ingredients and step-by-step instructions for making okra stew.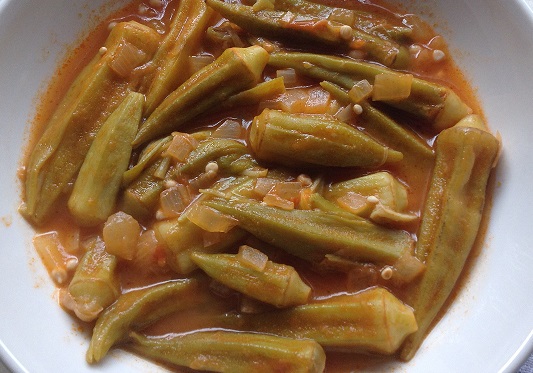 Ingredients
1 kg okra
2 onions
1 tomato
3 tablespoons of vegetable oil
1 tablespoon of tomato paste
1 teaspoon of salt
1 freshly squeezed lemon juice.
How to Make Okra Stew Step-by-Step
1- First of all clean 1 kg fresh or frozen okra. You can divide the long pieces in two.
2- Dice two medium onions suitable for strew.
3- Dice one medium tomato.
4- Put 3 tablespoons of vegetable oil in a cooking pot.
5- Turn on the stovetop on medium heat.
6- When the oil becomes hot, add the diced onions.
7- When the onions become fried well, add the diced tomato.
8- Fry until tomato becomes juicy.
9- Add one tablespoon of tomato paste and stir until homogenously mixed.
10- Add the washed okras and stir gently.
11- Add about 2 cups of water and close the lid of the pan.
12- Boil over medium heat for about 20 minutes.
13- When the oktas become soft, add 1 tablespoon of salt, 1 lemon's juice, and around 1 cup of hot water.
14- Stir gently not to cause the okras to overstew.
15- Close the cover and boil for about 10 more minutes over low heat.
16- Remove from heat and rest for about 5 minutes.
17- Your okra stew is ready to serve; enjoy 🙂