Raisin cookies are one of best snacks during tea-time. This baking recipe is the raisin cookie that is sold in pastry shops in Turkey. It is also one of the most used cookie recipe througout the country during snack hours.
How to Make Raisin Cookies in Turkish Style?
Making raisin cookies is really very simple in Turkish pastry style. It requires simple ingredients and have some simple steps. Here are exactly the ingredients and step-by-step instructions for making raisin cookies at home.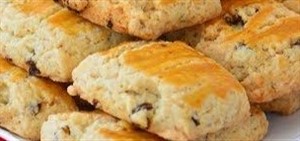 Ingredients:
4 eggs (1 yolk for the top), 4 table spoons butter, 100 ml vegetable oil, 1 cup sugar, 1 pack baking powder, 1 tablespoon vanilla extract, 1 lemon zest, 3 cups of all purpose flour, 3/4 cup raisins.
Instructions
1- Firstly take the butter in a mixing bowl and beat together with the eggs.
2- Then, add the sugar and mix until the sugar melts.
3- Add the flour, baking powder, vanilla and lemon zest to this mixture.
4- Start to knead until getting a soft dought.
5- Lastly add the raisins and knead with the raisins.
6- At this point, divide the dough into two equal parts.
7- Now stretch to form a long roll from each part.
8- Then, apply egg yolk on top of each roll.
9- Slice diagonally.
10- Bake in 180 degrees preheated oven for around 20-25 minutes until golden brown.
Check here for more cookie ideas.