Sekerpare is a one of the most popular desserts in Turkey which is mainly prepared by baking some soft semolina cookies dipped in sugar syrup. It is different from other desserts in the sense that you pour the hot syrup over hot cookies unlike most of the other popular desserts.
How to Make Sekerpare Dessert at Home?
It is easy to make Turkish semolina cookies called sekerpare at home. Here are the ingredients and step-by-step instructions on how to make those delicious semolina cookies in syrup: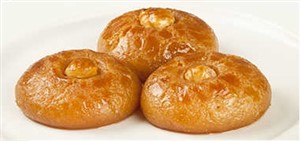 Ingredients: 200 gr. butter, 3 cups of all purpose flour, 1 egg, 5 spoon of semolina, 1/2 teaspoon baking powder, 1/2 cup sugar, 2 spoons of yogurt, 1 teaspoon of vanilla extract, some raw hazelnuts (for the top)
For the Syrup: 2 cups of sugar, 2 cups of water, 1 slice of lemon.
Instructions:
1- Firsly, add the butter, sugar, vanilla extract, yogurt and egg white im a bowl and beat until the mixture is fluffly.
2- Then mix the flour, baking powder and semolina in another bowl.
3- Now it is time to pour the liquid mixture slowly to the flour mixture and knead until becomes a soft dough.
4- Place the baking paper on the baking tray.
5- Cut the dough into walnut-sized pieces and shape into balls.
6- Place the cookie balls on the baking paper and spread egg yolk with a brush.
7- Place one raw hazelnut in the center of each cookie, by pressing it lightly.
8- Bake in pre-heated oven for around 20 minutes at 180 degrees.
9- While it is in the oven, we can prepare the syrup. Because the syrup must be hot when pouring over. For the syrup, put the water, sugar and slice of lemon in a pot and boil for 5 minutes.
10- Remove from the heat and pour the hot syrup over hot semolina cookies right away.
11- Rest it for 2-3 hours to absorb the syrup.
12- Finally your sekerpare desserts are ready to serve.