Rice pilaf is one of the top food that is loved and consumed in all parts of the world with different cooking styles. Generally it is consumed as a side food all over the world.
In Mediterranean cuisine, rice pilaf is very important. Today there are a lot of ways to make mediterranean rice pilaf in this geography.
How to Make Rice Pilaf with Vermicelli
In Turkey, rice pilaf is transferred from the Ottoman palace cuisine to the public kitchen in time. Usually it is served as a complementary food near the main dish.
Today's recipe is a very popular mediterranean rice pilaf called rice pilaf with vermicelli. This recipe is a very common that is cooked almost daily in Turkey as a side dish. Here are the ingredients and step-by-step instructions for making rice pilav with vermicelli.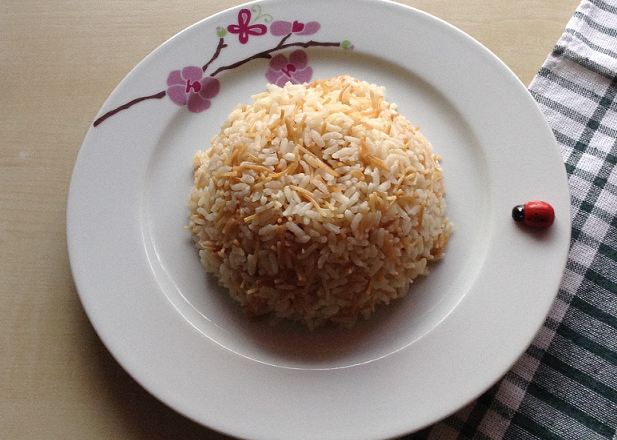 Ingredients:
1.5 cup of rice
2 tablespoons of butter
1/4 cup of vermicelli
1 tablespoon of salt
1 teapoon of lemon juice
3 cups of hot water
How to Make Rice Pilaf With Vermicelli
1- First of all take 1,5 cups of rice into a big bowl and add enough water to level. Mix the rice to make sure the excess starch and possible toxins are transferred to the water.
2- Strain this unclear water and discard.
3- Add water again and set aside for 20 minutes.
4- Strain and wash a few times until all the starch is gone. Then set aside.
5- Now add 2 tablespoons of butter in a pan and melt it over the medium heat.
6- When the butter melts, add 1/4 cup of vermicelli and stir fry until gold brown.
7- Add the rice and stir-fry the rice for around 1 minute.
8- Add 3 cups of hot water, 1 tablespoon of salt and 1 teaspoon of lemon juice.
9- Close the lid and cook over low heat for 20 minutes.
10- After 20 minutes, turn off the heat and rest the rice pilaf for another 5 minutes.
11- Your vermicelli rice pilaf is ready to serve. Enjoy 🙂