Today's recipe is about a Turkish vegetarian borek filled with spinach and cheese. In Turkey this borek is called "the rose borek" basically for its rose like shape.
Although it's nativeland is Central Asia, borek is an important pastry in traditional Turkish cuisine. It spreaded to Ottoman geography in time and attained an important place in especially in Balkans.
The main idea of this pastry has two main components, it is made basically with a handmade dough and inner filling inside. When categorized according to its filling and step-by-step instructions, there are numerous borek types in this geography.
Handmade doughs are demanding both in terms of time and effort, but very delicious. But is is possible to make delicious boreks by using phyllo dough in a short period of time. In today's post, we will give an easy yet delicious borek which will be loved by vegetarians, spinach borek with cheese.
Turkish Spinach Borek with Cheese Recipe
Indeed, it is pretty easy to make spinach borek with cheese. It is possible to prepare this borek with a few ingredients and start baking in a short period of time. From this perspective, we recommend this Turkish spinach borek recipe to people seeking delicious borek recipe which is practical. Here are the ingredients and step-by-step instructions for making Turkish spinach borek with cheese.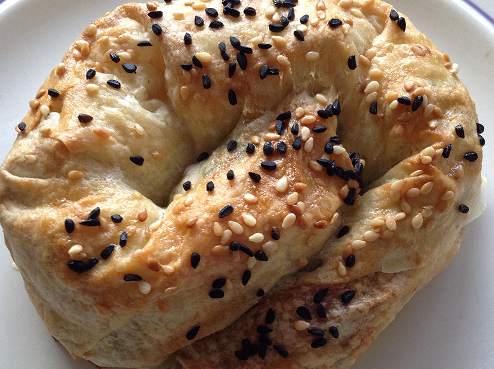 Ingredients
3 pieces of phyillo doughs cut into triangles
300 gr. of spinach
1 piece of chopped onin
100 gr of grated cheddar cheese
100 gr of curd cheese
1 egg
3 tablespoons of plain yoghurt
1/3 cup vegetable oil
1 teaspoon of chili pepper flakes
1/2 teaspoon of black pepper
1 teaspoon of salt
1 tablespoon of sesame seeds
1 tablespoon of black cumin
How to Make Spinach Borek with Cheese
1- First of all transfer 300 gr washed spinach, 1 piece of chopped onion and 1 teaspoon of salt into a deep container. Then message gently with your hand so that the spinach and onion pieces are soft.
2- Then add 100 grams of grated cheddar cheese and 100 grams of curd cheese and mix.
3- When a homogenous mixture is obtained, add 1 tablespoon of chili pepper flakes and 1/2 teaspoon of black pepper. Mix and set aside.
4- Now it is time to prepare the sauce. For that add 3 tablespoons of plain yoghurt (incase the yoghurt is too solid, add a few tablespoons of water), 1/ cup of vegetable oil and whisk.
5- Add 1 egg and whisk until all the ingredients are mixed well. The sauce is done.
6- Now we can roll our borek. For that transfer triange filo sheets on the counter and spread the sauce on the filo sheets.
7- Add the spinach and cheese filling to the wide part of the phyllo sheet around 1 inch thick.
8- Fold from the both edges and roll all the way and then swirl.
9- Apply the same steps to all remaining sheets and transfer all to a baking tray with baking paper.
10- Spread the sauce on the top and sides of the boreks which are placed on the baking tray.
11- Lastly sprinkle some sesame seeds and black cumin on the top of the boreks.
12- Bake in a preheated oven at 180 degrees.
13- Serve when hot and enjoy…