In this post, you will learn all necessary steps to make super delicious and easy pumpkin dessert at home.
With the arrive of fall, different kinds of pumkins with different colours have started to get their place in our pantry. Pumpkins are great for storing throughout fall and winter with their hard shell and thick walled structures. Thus we keep benefiting from pumpkin's several health benefits such as plentiful iron, potassium, protein, sodium, calcium, vitamin A and much more throughout cold winter days.
There are many varieties of a pumpkin. In our post we will be using an orange pumpkin variety which is preferred in traditional New Year evening meals in Turkey. In order to make Turkish pumpkin dessert, a relatively thick shell pumpkin is used which belongs to cucurbita moschata family.
How to Cook Pumpkin Dessert
Desserts are great to have! Pumpkin dessert is a traditional New Year dessert in Turkey which is extremely easy and delicious. Here are the ingredients and step-by-step directions for a Turkish pumpkin dessert.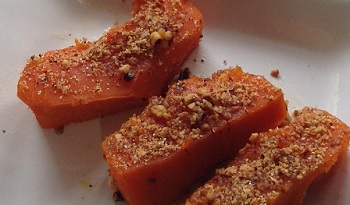 Ingredients
1 medium pumpkin
1 cup of granulated sugar
1/4 cup of hazenut pieces
1 cup of water
Turkish Pumpkin Dessert Recipe
1- First of all, we need to prepare the pumpkin for cooking in order to make pumpkin dessert. For that remove the head part of the pumpkin by cutting around the stem.
2- Then cut the pumpkin in half in order to slice easily.
3- Now you can easily slice the pumpkin halves into wedges.
4- Remove the seeds and soft parts in the center then peel off.
5- Now you can easily cut the wedges into 6 -7 cm long almost rectangle pieces.
6- The last step of preparation will be cleaning the pumpkin pieces. For that wash the pumpkin pieces in a big bowl and drain.
7- After cleaning, we are ready to the next step which is cooking. For that transfer the cleaned pumpkin pieces in a pot.
8- Add 1 cup of granulated sugar and 1 cup of water.
9- Turn on the stovetop. Bring to a boil on medium heat.
10- After the pot comes to a boil, turn the heat to low and simmer over low heat for around 45 minutes.
11- When the pumpkins become soft, remove from heat and transfer to a serving plate to cool.
12- Sprinkle a generous amount of roaster hazelnut pieces.
13- And your Turkish pumpkin dessert is ready to serve. Enjoy 🙂