Basically cacik is a Turkish side dish that is made of yoghurt, cucumber and garlic. It is possible to enrich the flavor by adding fresh dill leaves, mint leaves, tyhme, olive oil, green onions, carrot and lettuce. It is a popular mediterranenan food in surrounding geography with similar names.
It is mainly consumed in spring and summer , but it is available in all seasons. With its strong flavor and healthy ingredients, cacik has been preferred by many throughtout the world as a fat-loss friendly side dish.
Easy Cacik Recipe
Indeed it is pretty easy to make cacik. It is possible to prepare a refreshing, easy and healthy cacik in a few minutes. The ingredients and step-by-step instructions for making an easy Turkish cacik is as follows: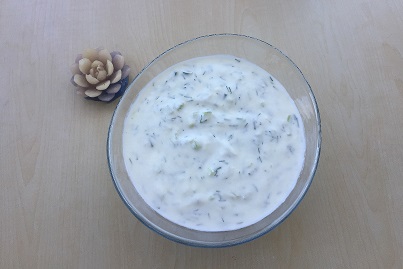 Ingredients:
500 gr yoghurt
1 cucumber
1 clove garlic
1/2 bunch fresh dill leaves
1/2 teaspoon salt
1/2 cup water
Instructions:
1- First of all wash and dry the cucumer. Then peel the cucumber into stripes. Cut the both ends.
2- Then cut the cucumber into small square pieces. You can do that by making vertical knife strikes from many directions and cutting horizontally.
3- With this chopping method, the cucumbers do not get watery. It means there will be no need to use sieve to get rid of extra cucumber water. This is why this is the easy way to make cacik.
4- Then peel and grate the garlic into the mixture.
5- Now we can add the fresh dill leaves. We wash half bunch of dill; chop and add to the mixture.
6- Then add the salt and mix them all.
7- If you like to have your cacik in this thickness, you can have it right away. Your thick cacik is ready to eat.
8- If you like to have a more liquid cacik than that, then you can add some water. How much water to add is completely depends on your taste. In this recipe we've added 1/2 cup of water and then mixed to get the thickness we want.
9- After adding the water give a final mix to blend all the ingredients.
10- Your easy Turkish cacik is ready to serve. Enjoy it 🙂