Swiss chard twirls is a delicious vegan meal for swiss chard fans. You can consume the swiss chard rolls both during breakfast and lunch as a side dish. It will be a great to have it during tea time as a pastry near tea. Here is the ingredients and the steps for making swiss chard twirl rolls.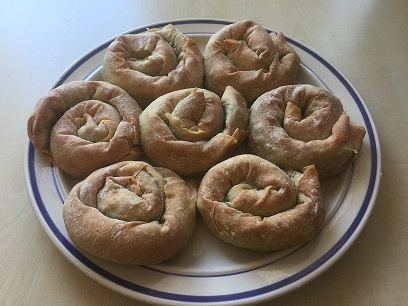 Ingredients: 1 teacup of yogurt, 1 teacup of vegetable oil, 1 packet of baking powder, 1 egg, 1 teaspoon salt, 3 cups of all pupose flour, 1 egg yolk, 1 teacup of vegetable oil, 400 gr. swill chords, 1 teacup of dried grapes (raisins), 1 onion, 2 tabslespoon vegetable oil, 1 cup of cooked rice, 1 teaspoon salt and 1/2 teaspoon blackpepper.
Preparation:
1- Mix the yogurt, vegetable oil and egg in bowl.
2- Mix the salt, baking powder and plain flour in another bowl.
3- Add the liquid mixture slowly to the flour mixture and mix until getting a soft dough.
4- Divide the dough into walnut big pieces and let them rest covered for around 20 minutes.
5- Clean and wash the swiss chards and cut them into 1 cm pieces.
6- Boil the swiss chards for 10 minutes and drain them. Then squeeze them until dry.
7- In a pan, fry the onion and add the well-squeezed swiss chards.
8- Add the cooked-rice, raisins, blackpepper, salt and sugar.
9- Spread the rested dough pieces with the dough roller as big as filo pastry.
10- Divide the filo into two pieces from the center with a knife.
11- Put the swiss chard filling to the side where you make the cut longitudinally.
12- Roll-over starting from the filled side to the other side. You get strips of dough filled with swiss chard filling.
13- Swirl the strip on the tray by giving a rose shape.
14- Appy the same steps the other half of the dough.
15- You can continue to put the strips to where you just left to get one single swirl. You can also make seperate rose shapes on the tray. This step is completely optional.
16- When the tray is full, brush the top with egg yolk and vegetable oil.
17- Bake it in a pre-heated oven (180 c) for about 20-30 minutes until gets a nice golden color.