Açma (achma) is a popular Turkish yeast pastry which is very soft and fluffy. It is generally consumed for breakfast. Achma buns are also popular members of Turkish street food.
Making achma bagels at home is not difficult. By following the step-by-step instructions, you too can make delicious and soft bagels at home.
Turkish Yeast Pastry Achma Recipe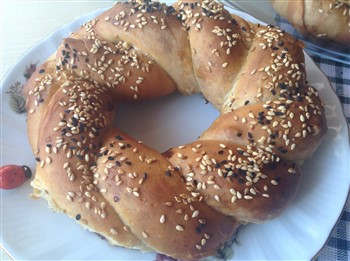 Ingredients
1 cup of vegetable oil
2 tablespoons of granulated sugar
10 grams of dry yeast
1 teaspoon of salt
2 cups of tepid milk
1 cup of tepid water
4 tablespoons of sesame seeds
2 tablespoons of tahini
1 tablespoon of molasses
1 egg yolk
2 tablespoons of butter
1 teaspoon of cinnamon
Flour (around 6 cups)
3 tablespoons of chopped walnuts
2 tablespoons of black seed
How to Make Achma
1- Transfer 2 cups of flour in a mixing bowl.
2- Add 10 grams of dry yeast and 2 tablespoons of granulated sugar.
3- Add half of the tepid milk (1/2 cup) and mix to activate the dry yeast.
4- Add the remaining half cup of tepid water, 2 cups of tepid milk, 1 cup of vegetable oil and 1 teaspoon of salt.
5- While mixing add 2 cups of all purpose flour and mix.
6- Add 2 more cups of flour and mix.
7- While mixing, gradually add 2 more cups of flour to get suitable texture for kneading.
8- When it becomes hard to mix with the spoon, transfer the dough on the table and start kneading.
9- Knead until you get a soft dough.
10- Transfer to a bowl, cover with a towel and set aside for around 1 hour.
11- Put 2 tablespoons of butter in a pan and put it on the stove top on medium heat to melt the butter.
12- After one hour tear off two lumps of dough around the size of an egg.
13- Roll out the dough into a circle of around 30 cm in diameter.
14- Apply butter and tahini first with the help of a brush.
15- Then sprinkle a punch of cinnamon, granulated sugar and chopped walnuts on the sheet of dough.
16- Roll and stretch the rolled sheet. Set aside and make another rolled sheet by following the same steps.
17- Now we have two rolled sheets. Join them from one end and start to twist.
18- Stretch the twisted roll a little bit and join the two ends.
19- Transfer the bun into a tray with baking paper.
20- Apply the same steps to all remaining dough to form new buns.
21- Add 1 tablespoon of molasses into the egg yolk and mix.
22- Apply the molasses and egg yolk mixture on the bagels on the tray with the help of a brush.
23- Sprinkle roasted sesame seeds and black seeds.
24- Bake in preheated oven for around 30 minutes at 180 degrees.